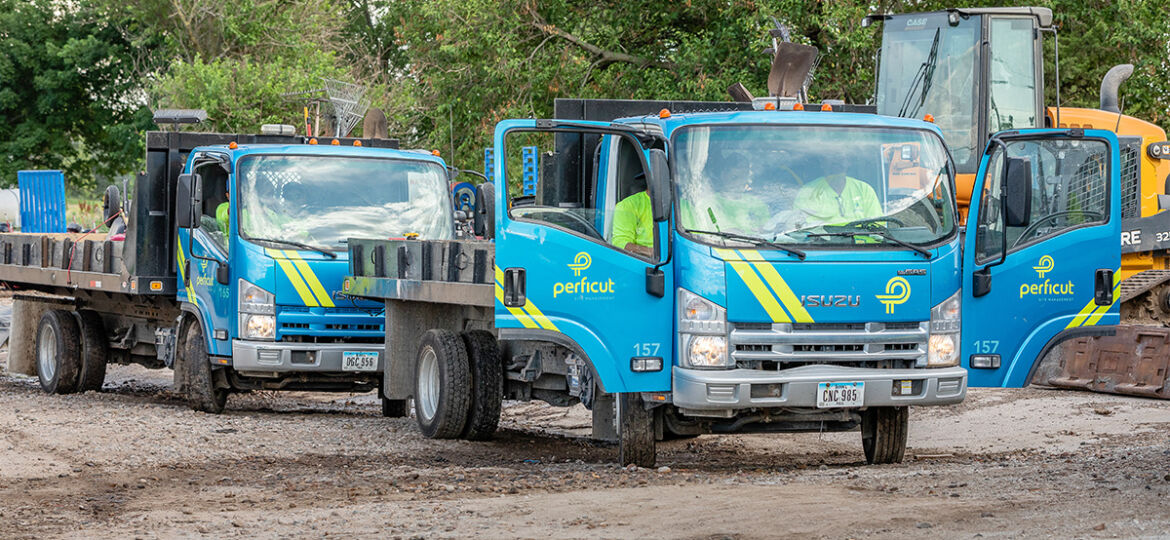 No matter where you look in Des Moines, you're likely to see a crane. Or two. A bulldozer. Some scaffolding. A whole bunch of orange cones. Big things are happening in Des Moines right now. The city is growing like crazy in all directions, with residential development booming in areas like Waukee and Cumming, redevelopment and expansion downtown, and commercial growth happening in Grimes and Altoona. Everywhere you look, change is happening.
It's an exciting time to live in central Iowa, with so much going on from corner to corner of the city. It's also an exciting time to own a business in central Iowa, especially when that business is closely tied to new construction. Perficut is growing leaps and bounds to keep up with the work flowing into its three regional offices in eastern Iowa, central Iowa, and eastern Nebraska, and that growth is thrilling. And challenging.
"The mass development that is happening around central Iowa just means that there is a lot of work to be done and we want to be a part of as much of it as we possibly can," says Jeff Goode, one of Perficut's most experienced project managers. But, he adds (and this is a big but), they only want to be involved if the work can be done to their extremely high standards.
So when there are 15 new projects on the horizon but only 12 teams available, what's a super-successful landscaping business to do? They find partners.
Understanding the need
Partners are not a new thing at Perficut: each winter, the company partners with a select group of service partners to ensure that all of their client sites are cleared as quickly as possible. When central Iowa gets 10 inches of snow overnight, these partnerships with other businesses are not only helpful but absolutely necessary. Even a large company like Perficut, with large teams and a sizeable fleet of trucks, can't clear every client site at once. So they rely on trusted partners to help with that lift, and the relationship benefits everyone in many important ways. These service partners are carefully vetted, to ensure that they share Perficut's core values and commitment to their clients.
Service partners have been part of Team Perficut for a long time, but lately, the company has started to explore a new and different kind of partnership. There have been several opportunities of late to partner directly with some of their so-called "competitors" on larger, more complex projects. In this case, partnership is less about filling in knowledge gaps or bringing in someone who knows more than Perficut's team of experts. It's akin to the snow service partners—it's not that Team Perficut doesn't know how to push snow or handle ice. They certainly do. But sometimes they need an extra set of hands to get the job done in the way they want to do it. The same holds true with these new collaborative partnerships.
"Partnering is becoming more and more frequent," says Jeff. "The landscape of our industry is changing, and we need to change with it." Part of this change is that competitors are, well, less competitive. Some of the jobs are just so big that no one company could handle it on its own. Generally speaking, everyone is feeling the strain of too much work and not enough bodies or equipment to do the work well. "We're all in the same boat," says Jeff. "There is so much work to do around here and in order to be able to be part of the things we want to be part of, we have to team up."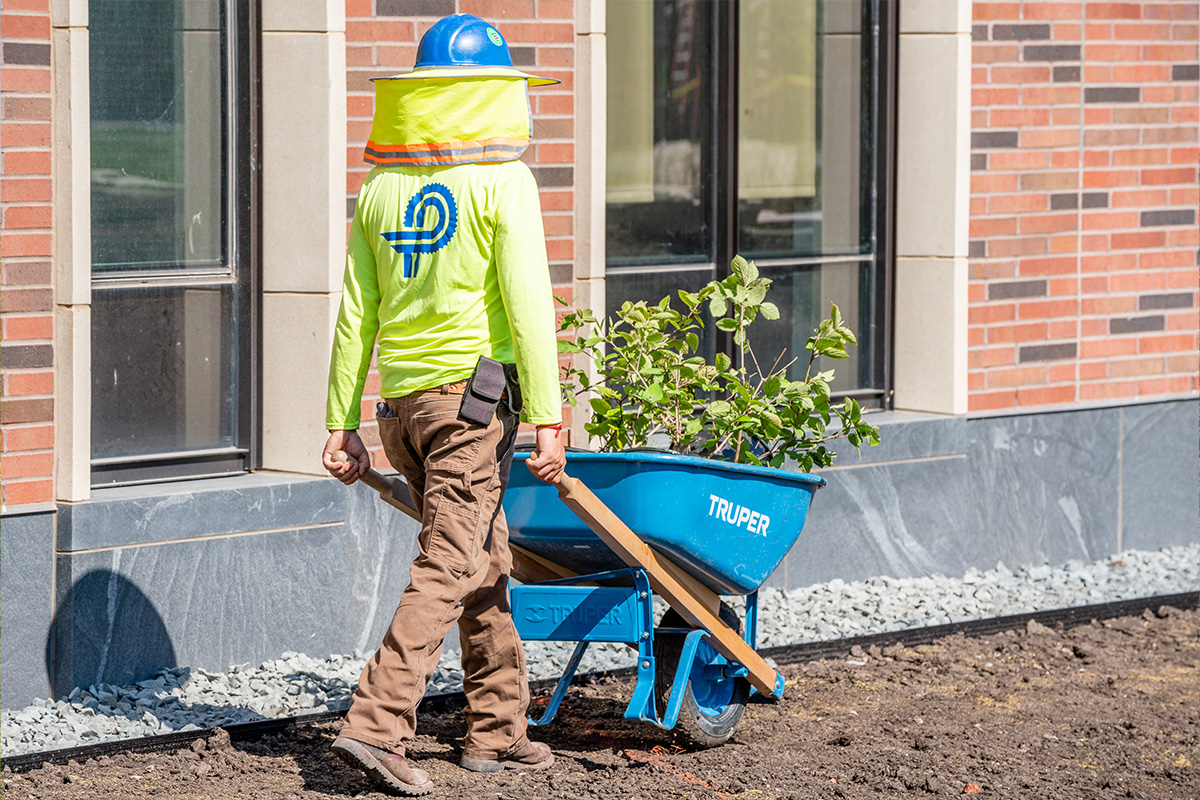 Team Efforts
These team projects used to be fewer and far between, but Perficut has taken on two in just the last year. The first is the Market District, a new entertainment district coming to downtown Des Moines. The project is enormous, with residential space, retail space, restaurants, commercial space, plus beautiful outdoor spaces. Perficut is partnering with another landscaping company on the irrigation piece.
"We certainly understand irrigation, because we do that for many clients, but in this particular case, we're happy to hand this piece of it off to them," says Jeff. He has been working closely with the company, sharing plans and meetings, and establishing order of operations. There's been a great deal of communication to ensure that all bases are covered and things are going as they should. "The way I approach working with them is that I want updates and I want to work with them on schedule, etc., but when it's time to go, I want them to do their thing," he says.
The new Des Moines University campus is another huge project that relies on partnerships. Perficut is partnering with a company that would technically be a direct competitor, who operates in the same space as Perficut and offers many of the same services. "DMU is just so huge, there's no way we could meet the timeline with just our guys," says Jeff. "The partnership has been essential in keeping things moving."
On the DMU project, partnership looks like communication—a lot of communication. There are meetings and phone calls and emails to cover details and establish timelines. There is coordination of services and equipment, as well as discussion about manpower and timing. This is the first time Jeff has worked so closely alongside a competitor, and the process has been eye-opening in the best way.
"It's really been cool," he says. "We've really kind of developed a relationship with those guys that we're typically bigging against and see as our counterpart. In a project like this, there is more than enough work to go around, so that feeling of competition is just gone. We're really in this together, helping each other out, and it's been awesome."
Time will tell if this kind of collaboration is the new normal, or if it only happens on huge projects like DMU. Either way, Perficut will continue to find ways to collaborate with and work alongside competitors. In fact, Jeff seems to think that partnership could soon become the norm. "The fact that the industry is changing the way it is means that we need to find a way to stay involved in the projects we want to be part of," he says. "Partnerships are the best solution. They are how we adapt."
Check out some of Perficut's recent projects on our Projects page