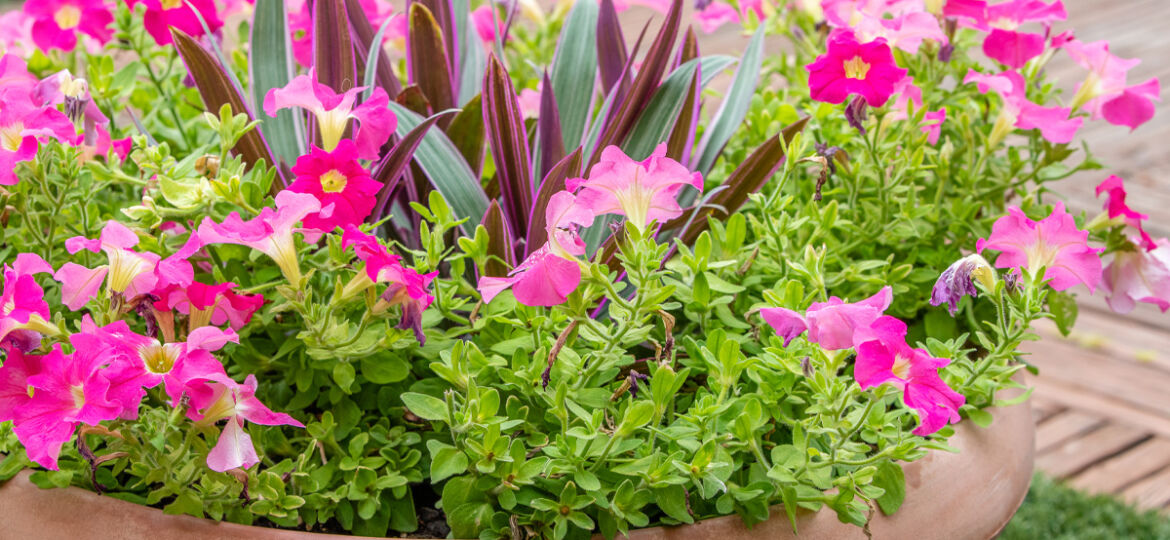 When the rest of the Midwest is hanging up stockings and decorating their Christmas trees, Amy Edmondson is combing through spreadsheets and catalogs, putting the finishing touches on her summer plant order. You read that right. When you're wrapping packages, she's ordering petunias. When the rest of us are counting down to midnight, she's counting the number of containers she's going to need for Perficut's commercial sites. "Summer plant orders are due the first week in January, and they have to include everything that we want grown especially for us," she says.
December might seem like an odd time to be thinking about summer blooms, but as Perficut's Floral Production Manager, flowers are never far from Amy's mind. And it's been that way for a long time. Before she joined the Perficut team, Amy worked for Hy-Vee for more than 10 years as a floral manager and expert in cut flowers. She enjoyed keeping track of trends and upcoming looks in flowers, but she absolutely loves getting to use her skills and expertise in a bigger way at Perficut.
"I love my job at Perficut because it gives me an even bigger palette to work with," Amy says. "We do interiors and exteriors, and nothing is ever the same. There are so many different looks we can accomplish with containers and plant material. It really feels like the sky's the limit."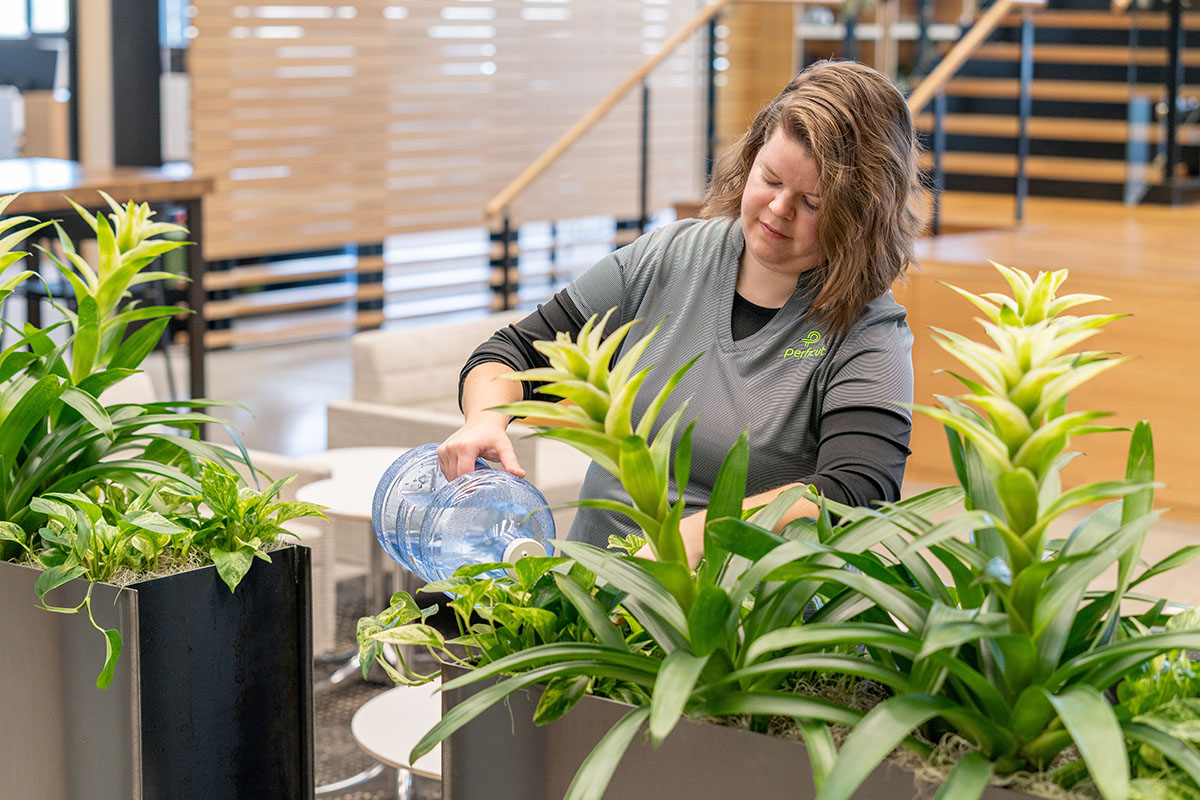 Cultivating the Unique
It's hard to imagine a much bigger palette to work with. Perficut is a full-service landscaping company, offering comprehensive commercial site management, snow and ice management, and landscape construction. They pretty much do it all. But Amy and her team bring something different to the table.
"In contrast to turf maintenance, which is all about uniformity and sameness, floral is incredibly complex and nuanced," she says. "Everything is site-specific and client-specific."
This means that Amy spends a great deal of time in the winter poring over those plant catalogs. The goal is always to keep things fresh and for each site to be unique in some way. For some sites, that means custom-ordering an uncommon plant variety that is new and novel. For other sites, it means highlighting something cool or different about the space or the layout. But regardless of the approach, Amy's goal is always to create something that will stand out.
This goal is sometimes more challenging than one might think, especially when planning sites for clients in the same area. For example, Perficut manages several sites in downtown Des Moines that are very close to one another, and Amy and her team are especially diligent in making those plans to ensure that each site has its own look and feel.
The Planning Process
The surest way to accomplish this is to be involved in the planning process early and often. Amy is part of the entire planning and bidding process, from site visits to planning to estimating costs. When Amy visits a site, she is looking at so much more than just bed space. She takes lots of photographs and measurements and picks the client's brain about what they like and don't like and if they have strong opinions about colors or textures. Some clients have specific preferences, but most default to some version of 'just make it look good.'
"The vast majority of our clients trust the work that we do and give us free reign to do whatever we think will work best," she says. "Sometimes they want to highlight a specific color or avoid a certain color but more often they trust me to find creative ways to highlight their site."
While she's asking these questions and listening closely to how the client responds, Amy is simultaneously taking in the site, evaluating a long list of variables like light conditions, soil conditions, water availability, the style of the building, and nearby topography. When she returns to the office, she and her team spend time brainstorming and talking through possibilities. They also talk about textures, shapes, and what materials they aren't using elsewhere that might work for that site.
Amy works closely with Perficut's account managers during the bidding process, helping to estimate costs and put together a plan and a timeline. Once they get the okay from the client, the next step is sourcing containers and ordering any specialty plant material, which has a long lead time.
"Anything we want custom-grown has to be ordered by the first of the year so our vendor can get it growing. We can still add and change things last-minute but we have much less variety because we're working with existing stock," she says.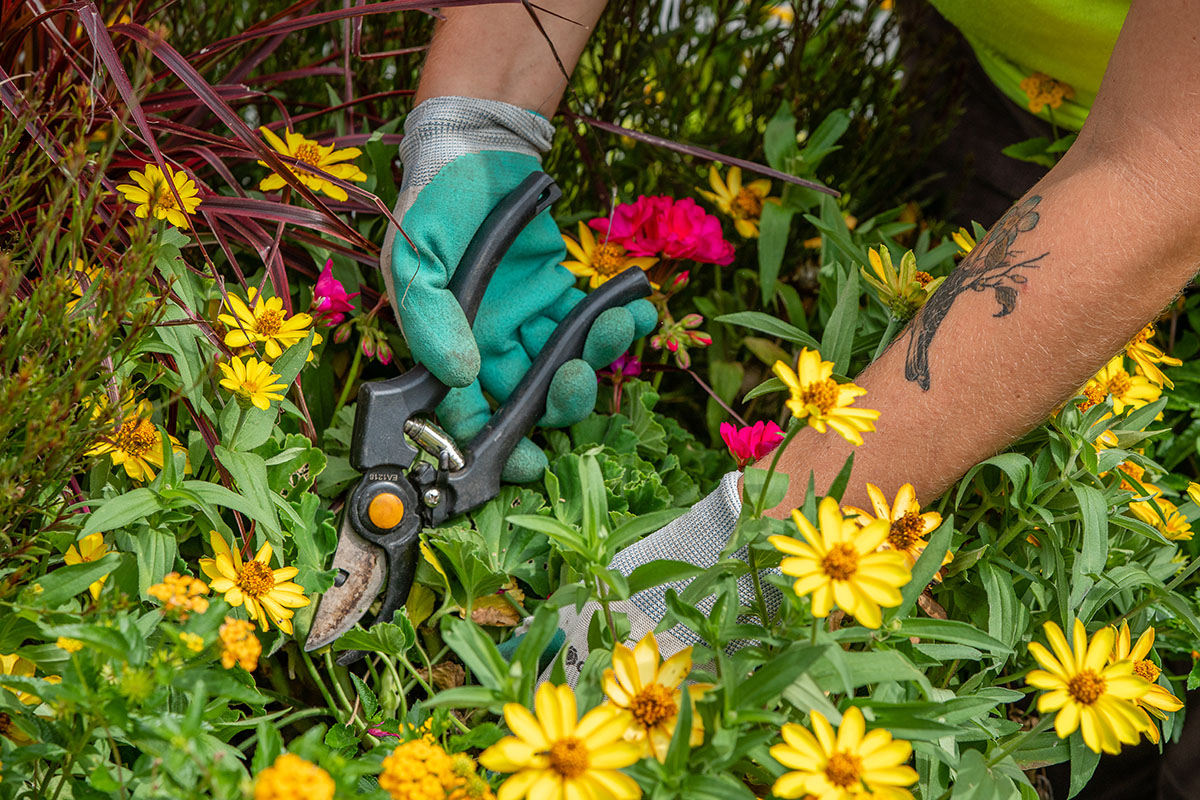 Maintenance Matters
Once the weather warms up, all of that time spent planning pays off and the floral team kicks into high gear. Spring plantings in containers start in April, followed shortly by summer plantings. Summer is the team's longest and most popular season, and things don't slow down once sites are planted.
"After we're done installing, it's our job to keep all of those plants alive and flourishing," she says.
The scorching Midwestern weather doesn't always make her job easy. Amy and her team visit each site three to four times each week weeding, watering, deadheading, fertilizing, and troubleshooting. If that sounds like a lot, well, it is! But being onsite so often means that if an issue pops up, the team is on top of it right away. And issues do pop up. Whether it's a new pest or plants that just aren't thriving, the team can figure it out before things get too far along. Amy and her team take a very proactive approach—the goal is to identify potential issues early and take care of them before the client even notices that something is wrong.
But when the site looks good and the client is happy, all the hours spent planning and executing are so worth it. No matter the season, there's something special to what Amy and her team bring to the table.
"We are the frosting on the very solid cake of Perficut. We get to do the part that is the most fun and the most visually different each year," Amy says. "And people respond so strongly to what we do. When we're out in public working on sites, people are always stopping us and thanking us for doing what we do. It's incredibly rewarding."
Interested in bringing some flower power to your site? Get in touch with Amy and her team.