Flowers have power—especially colorful ones. Magenta, gold, tangerine, crimson, plum—no matter the shade, there's a flower to match, and arranging them into a big, blooming pot is a sure way to brighten anyone's mood.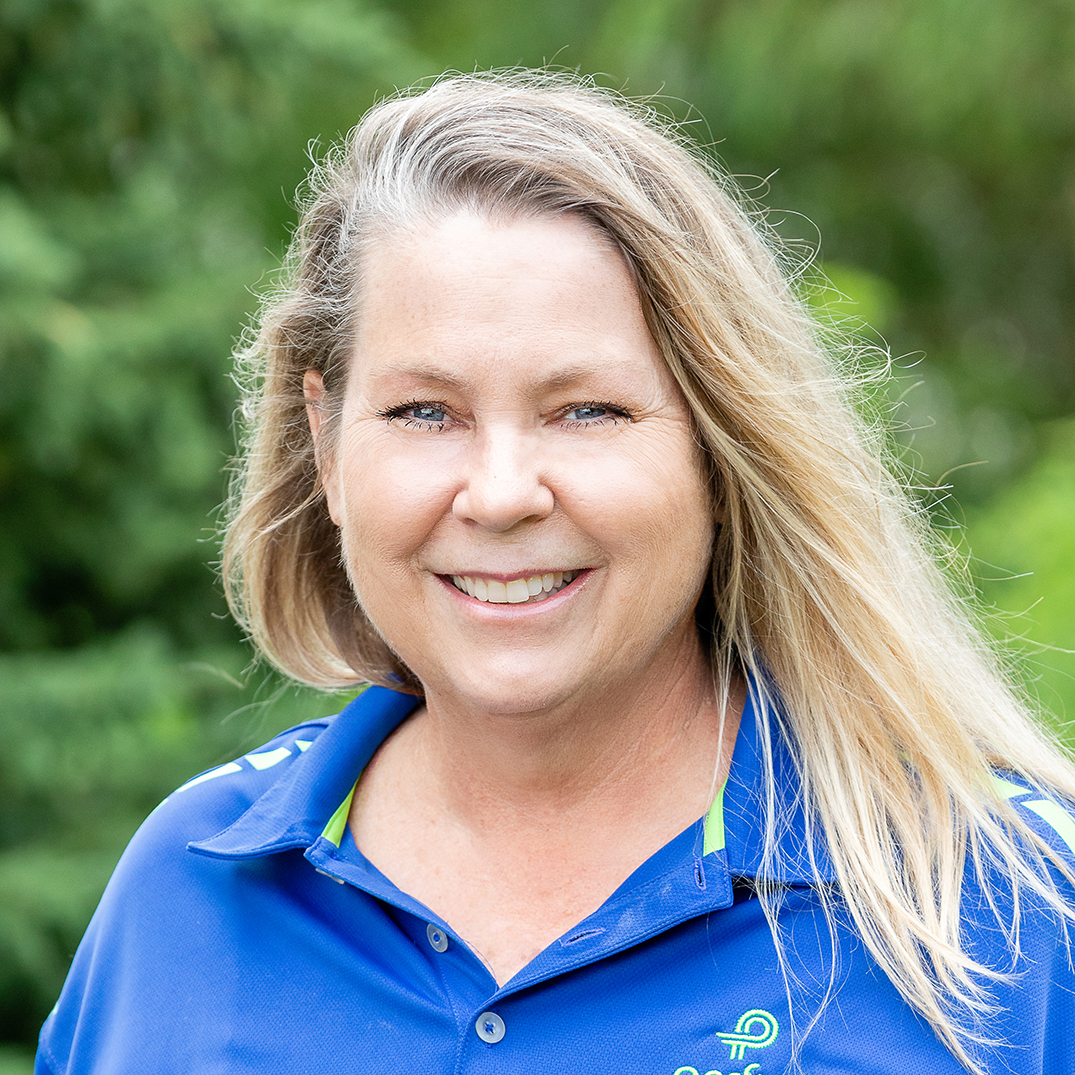 Perficut's Landscape Maintenance Manager Lisa Fazio has expert advice to help you create your own happiness-boosting flowering planters at home. As one of our landscape production managers specializing in floral, she designs, plants, and maintains dozens of bold, beautiful planters every season.
She's a pro, of course, but she says they're perfect for gardeners at any level: "The big plus about planting in containers is that you get flexibility and control," she says. "You get to decide how big your garden will be, whether it's going to be sun or shade, and where to place it."
Follow Lisa's tips to create your own colorful container planting this spring.
Design Elements
Lisa plans out each container with four key elements:
Center—This is the tallest plant in the middle of the pot. "I call it the centerpiece," Lisa says. There is usually just one of these, such as a palm or a spike plant.
Main attraction—These are the bold plants that surround the center plant and are a step shorter in height. "This is where you're going to have most of your color," Lisa says.
Trailers—These long, dangling plants go around the edge of the container and trickle over the sides.
Fillers—Place these small plants in any bare spaces.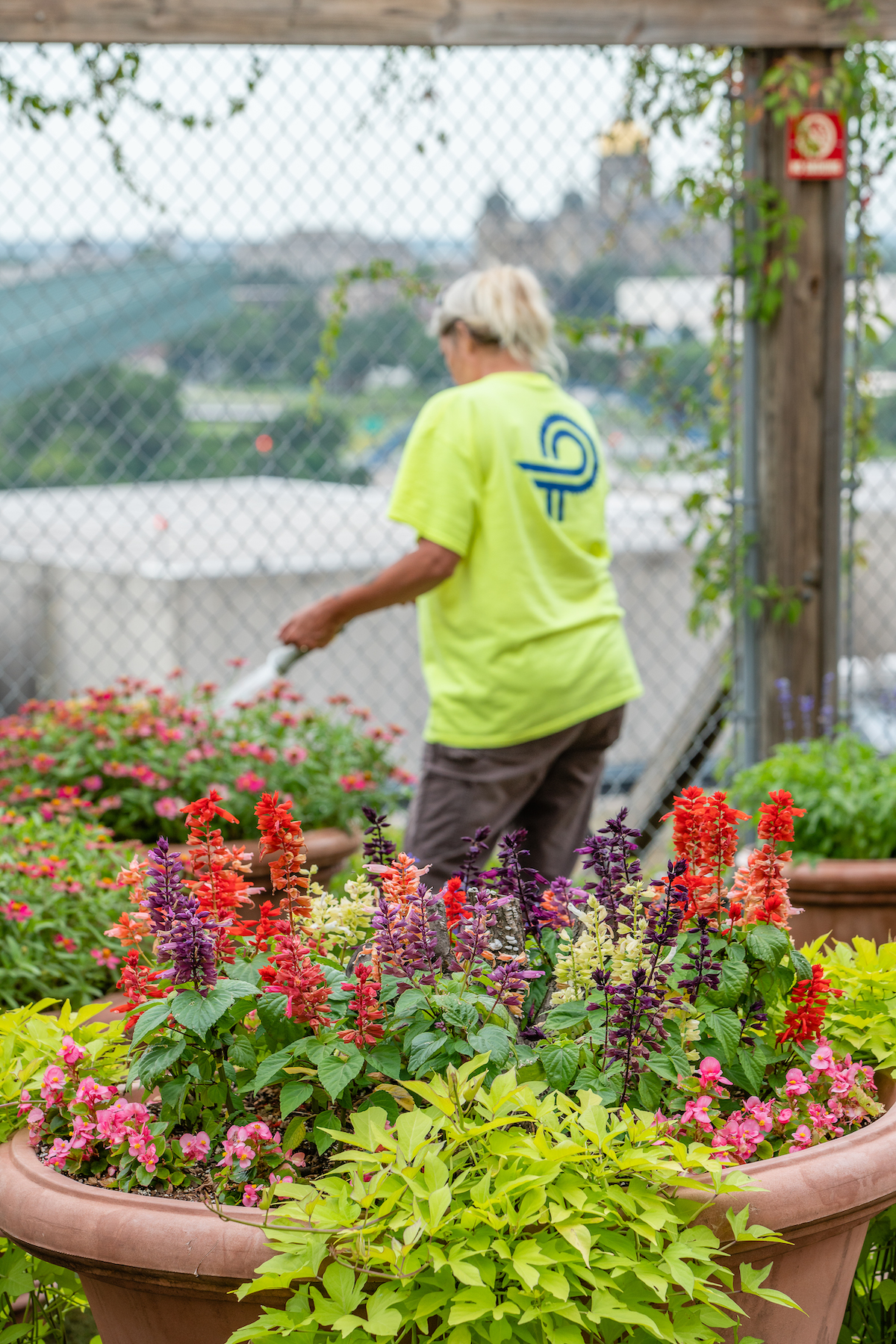 As the designer of your own container garden, you get to pick the colors that please you best, Lisa says. She has clients who like various plants but only one color. Others prefer the "fruit salad" look, she says, which is three or four different colors in one pot. There's also the two-color palette, such as planting different types of red flowers and white flowers. "Because you have multiple flowers in only two shades, this can give you a little more 'wow,'" Lisa says.
Whatever your approach, aim for variety in shape, size, and texture. Look for plants that have smooth, shiny, spiky, or feathery flowers and foliage. Some of Lisa's favorite main attraction plants include sunpatiens. "They are hardy, do well in both sun and shade, and give you lots of good vibrant colors," she says. Petunias also come in all different hues, and the standard ones make good fillers. "The mini calibrachoa petunias make colorful trailer plants, but you have to cut them back to keep them from getting to stringy," she says. For shaded containers, you'll have plenty of variety to choose from in the coleus family, she says. "And you can add impatiens to pull out and pop a color from the coleus you have chosen."
Planting Plan
Once you have your plant elements in your favorite color scheme, it's time to get your hands dirty. When doing work for Perficut clients, Lisa and her team follow these steps:
Center plants
Trailers at the edge
Main attraction around the middle
Fillers
Once everything is in place, stand back and view the pot from afar. Look for gaps or clumps of plants that are too close together and go back in to rearrange as necessary. "Your pot should look uniform," Lisa says. "As one last step, I always suggest looking down at it from above, too."