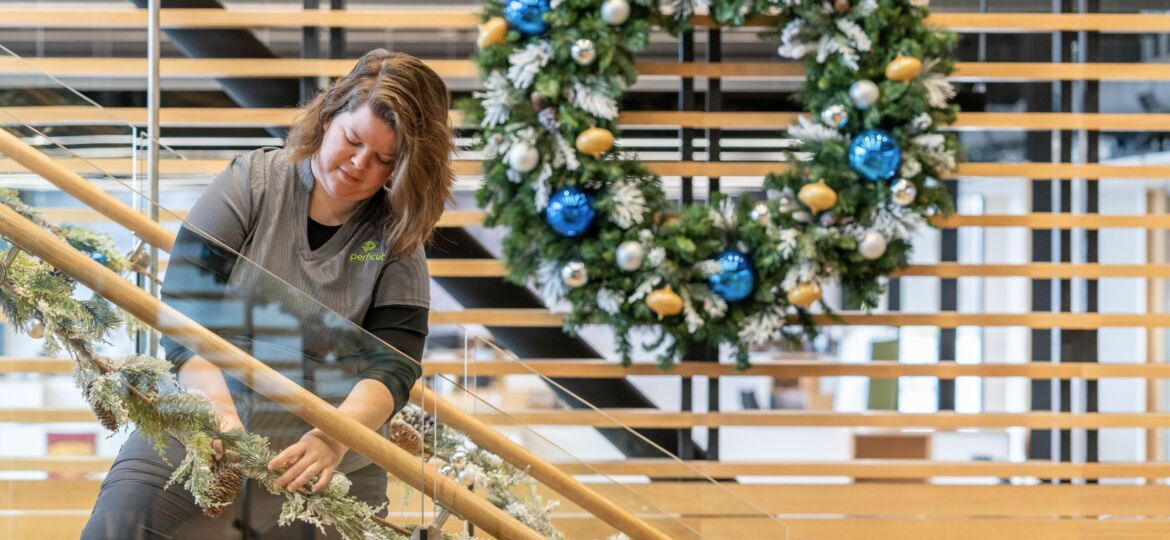 Amy Edmondson and Bob Runyon want to give your employees and customers a mental boost. They oversee the holiday décor that Team Perficut installs in workplaces across the Des Moines metro and beyond. In other words, they are Perficut's chief holiday elves.
All the trimmings, baubles, lights, and greenery that bring holiday cheer to places like Kreg Tool and Mercy hospitals are their responsibility. And it's one they treasure. "Holiday decorating affects your mood as you drive up to your workplace, and as you leave at the end of the day," Amy says. "I love bringing it to life and having our clients be really excited about it."
CHRISTMAS IN JULY
For Amy and Bob, Christmas is on their minds year-round. But the planning and preparation really kick into gear in the summer. "It can be hard to get clients to think about holiday decorating so early," Amy says with a laugh. But she has to work ahead to order materials, which usually occurs in August.
Every holiday plan starts with a site visit: "I want to get a sense of the surroundings, and the materials and décor that I'll be coordinating with," Amy says. "The client has already made decisions in the space, and holiday decorating is about designing what fits in with their buildings and interiors."
Amy likes to start the conversation asking the clients what they want and don't want in their holiday décor. "I have a background as a florist," she says. "So I get to bring that tool kit out." She suggests colors, specific materials and textures, and what elements might be included, such as lights and ornaments. "I figure out what neutral palette they want first and go from there. Do they want things more silver-heavy, more gold-heavy, or somewhere in between with champagne?'"
Although reds and greens are a classic choice, Amy finds that many clients are open to other colors to express holiday festivity in a less traditional way. "An evergreen base with baubles on it seems to indicate the season more than color these days," she says. She helps clients choose greenery to weave into garlands and wreaths, and she prefers when a variety of greens are mixed together, from soft cedar to spiky firs to shiny magnolia leaves. "Any time you can mix more than one texture, you're automatically upping the sophistication of the piece," she says. She also always recommends including a sparkly element. "I get really excited about all the shiny stuff to be quite honest," she says. She shows clients the array that's available, including metallics, matte, and glossy finishes, "but I've learned the hard way that glitter should be used sparingly because it's hard to remove."
FRESH OR FAUX?
One important determination clients make is whether to invest in fresh materials or artificial ones. "More and more are moving to artificial," Amy says. "I show people a 3- to 5-year plan for their decorations, and the cost of artificial will be lower over that time frame than doing fresh each year." She also says artificial greens hold up better over a holiday period that typically starts in November and can last through January. "Three to four weeks is the longest fresh greens will look good," she says.
Whatever choice a client makes is a good one. "We bring in the knowledge of high-quality materials, and then follow the clients' wishes," Amy says. "These are investments for our clients, so we aim to make them feel fresh and have versatility each and every season."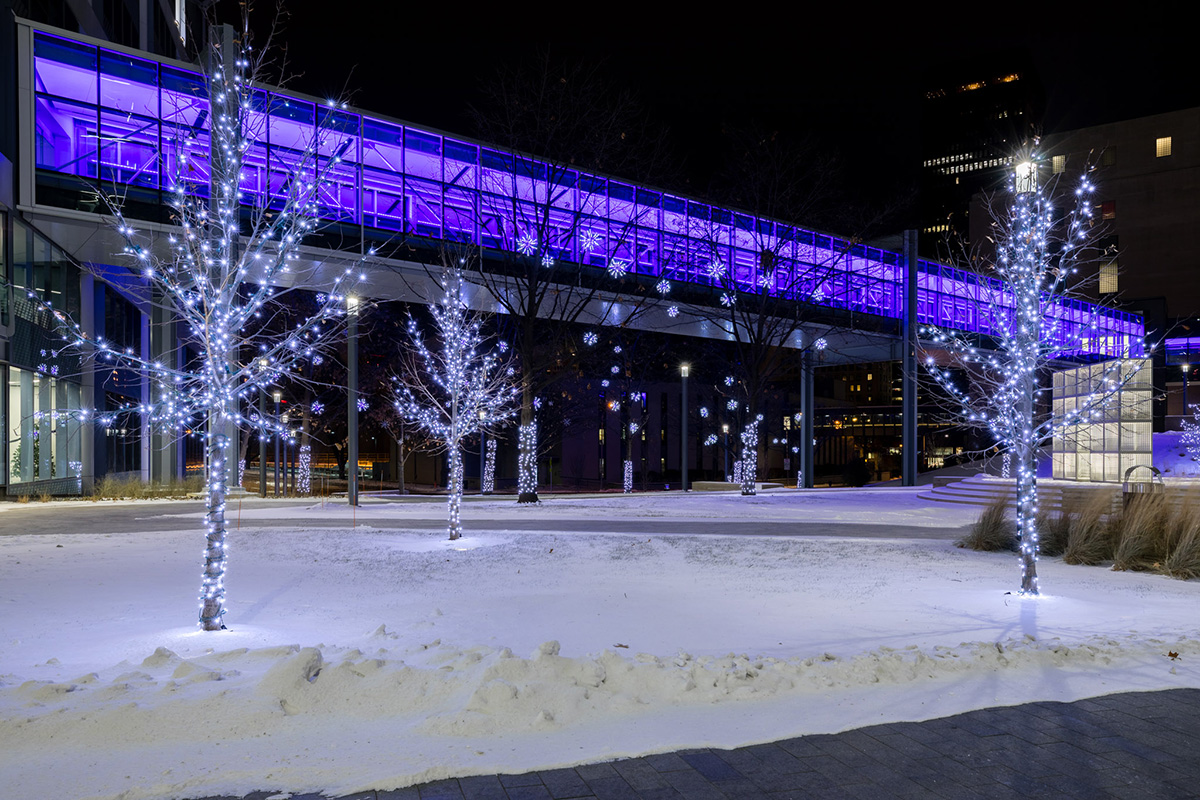 When Bob Runyon talks holiday decorating with clients, he talks about their electrical capacity and roof access, too. "Power is the number one thing with holiday lighting," he says. "Do we have access to it at a client's business, and then, what's the capacity?"
Once that's established, Bob can take nearly any idea and run with it. "We have some clients who just want to light their roofline and around their trees, and that's it. But then we have some who want 40-foot trees cabled to the ground, 8-foot round balls, and 3D light displays," he says. "We want our team members and clients to be safe of course, but we can pretty much find a way to do anything a client wants."
The winter season means a lot of hard work, but Team Perficut's holiday elves wouldn't have it any other way. "Holiday lights make everybody smile. I think that's what I love about them," Bob says. "It creates great memories for families and for businesses." And Amy adds: "Winter is tough here in the Midwest. Holiday décor is something we get to do to add value to our clients' spaces."
check out amy's eye-catching décor at Kreg Tool