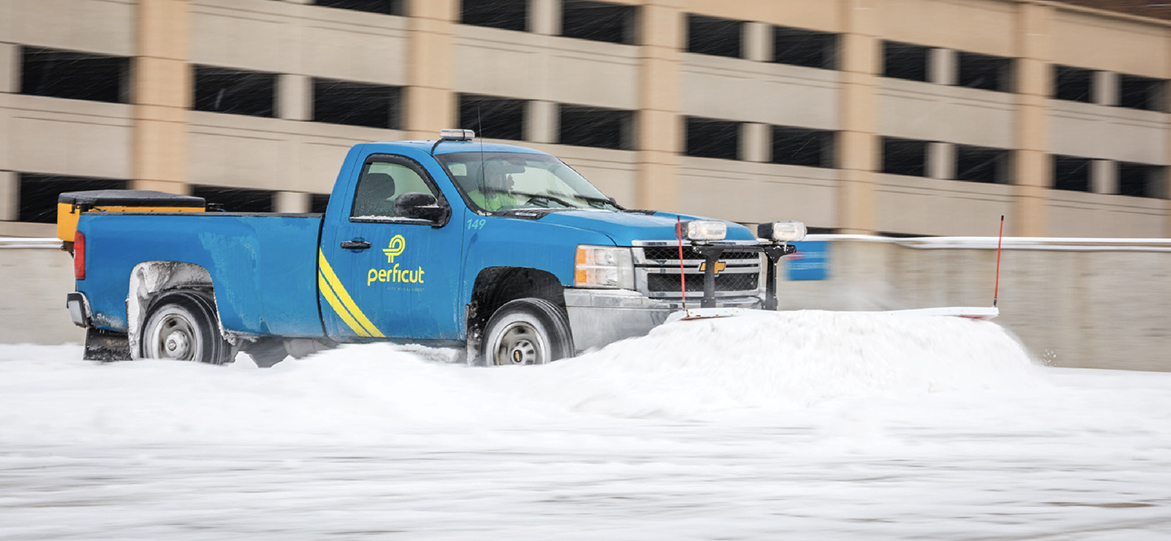 Ask Team Perficut's snow removal experts what their favorite equipment is, and their eyes light up. For Lance Weigel, Director of Snow Operations in Des Moines, it's a front-end loader. "It can move a lot of snow because it's so big," he says. Perficut's Director of Snow Operations in Eastern Iowa Zach Suchan gets even more specific: "My favorite is a Volvo L70 with a 16-foot Arctic pusher on it. It can push mountains."
Lance and Zach—and the rest of Perficut's Snow Operations team, which numbers about 100 employees and 37 partnering snow removal crews—live, eat, and breath snow. It's a year-round obsession for them: ordering salt, readying equipment, checking clients' snow plans, and then responding to and reviewing each and every snow or ice event.
What do these pros wish we knew about snow? It's that preparing for the winter season can make everyone safer.
WE KEEP OUR EYES ON THE SNOW
Starting in October, Lance and Zach are glued to their radar and weather apps. In the Midwest, snow can arrive any time. As the nation's 28th largest snow removal team in volume, Perficut has a big job to do once the flurries fly. "I'm watching the weather and holding, holding, holding until the time is right," Lance says. "Then I activate the teams with texts and email. It's time to go!" Lance and his team may work 12 to 30 hours straight keeping their clients' properties clear of snow and ice. "For me, yes, it's an adrenaline rush," he says. "I love it."
The key to their success and the safety of their clients and their team starts well before the snow or ice event. Perficut has an 8-step program for snow management that emphasizes training as well as pre-season site inspection and snow planning. "We do a walk-around with our service partners, site managers, and the Perficut snow team," Lance says. "We'll take notes and pictures." A pre-season inspection identifies site-specific safety issues, storage capacity, and removal priorities.
"I like to start the conversation with clients in July and August," Zach says. "We'll be looking at parking lots to identify the best spots for snow storage, for example." Each site gets a custom map that includes these spots, identifies target areas where ice might form, and includes notes about local ordinances. Then, before weather arrives, the team returns to the site to add high-visibility stakes to curbs and corners to make navigating easier for plow operators.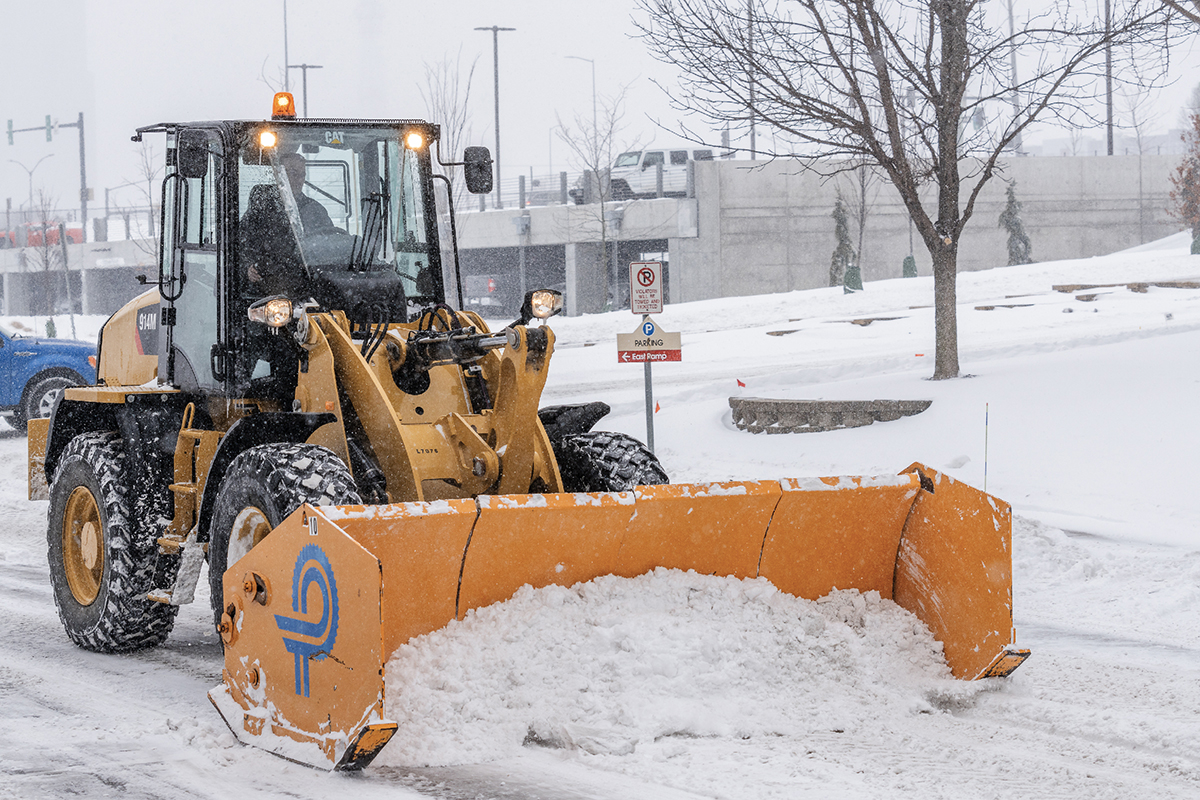 FROM SNOW WORRIES TO NO WORRIES
It's even possible to prepare clients' sidewalks, entries, and parking surfaces in anticipation of snow. This year, Perficut is offering a pre-treating service, Lance says. "It's a liquid salt that lays on the surface and will burn off the first inch or so of snow," he says. "The snow starts melting immediately before we even start to push it." This crucial step can save time and money, and it contributes to the effort Team Perficut makes to get down to dry surfaces with every snow and ice event. "I want the parking lot to look like a normal parking lot in the middle of July," Zach says.
These high standards mean the crews put in long hours. They service sites multiple times during snow and ice events, prioritizing high traffic areas and walkways. "We work to keep things open, like exits and emergency access and sidewalks," Lance says. Then, as the weather winds down, the team's efforts turn to finishing touches. "I'll make the call that this will be our final push," he says. "We'll go curb to curb and edge to edge, getting all the crumbs taken care of."
"No matter what, when we're done, the site looks clean and nice and it's safe," Zach says.
Team Perficut's priority is safety, Lance says. Safety for Team Perficut team and safety for Perficut's clients. The endless planning and rigorous preparation serve one purpose: To make every snow season is a safe one. "We take the worry out of winter," he says.
Watch Team Perficut in action prepping and working on-the-job during a major snow event